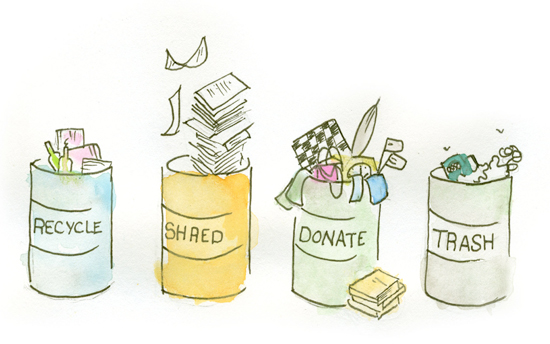 "A cluttered space equals a cluttered mind," Chinese proverb
Clutter, in any of its manifestations, has a negative impact on our energy, our attitude, and our effectiveness. Piled-up desks, wardrobes full of clothes you don't wear, an unsatisfying career, unopened mail, and unpaid bills. Unfinished jobs, tasks, and projects —all of these create blockages and have an effect on our energy.
How much clutter are you holding on to?
Anyone with an overflowing wardrobe or totally full house/basement/garage can feel stressed by piles of junk. That's because not only is it annoying to look at, but it can dredge up so many different emotions. That's why it's important to get your clutter under control, once and for all.
It's true that clutter comes with a lot of baggage, both literally and figuratively. When you look at a messy or completely stuffed cupboard or wardrobe do you feel a particular emotion?  I personally feel stressed at the lack of organization. But it could also bring up other emotions like feeling guilty that you don't wear or use half of what you own. Maybe you feel your life is chaotic and dysfunctional. Your personal space shouldn't bring up all of those emotions, but it can.
It's not just having too many clothes in our wardrobes, too many possessions, too much paperwork, out of date items, the list is endless. Clutter can take on many forms. A messy or disorganised desk, rubbish filling your car, holding on to things in case you may need them in years to come, holding on to memories, both good and bad.
In this article, we are just looking at some of the physical clutter, but we all tend to hold on to mental clutter that also stops us from being focused, productive, creative and we will look at these in a separate article.
So what are some of the benefits of decluttering?
Focus and concentration
When there's a pile of junk on my desk I find it nearly impossible to get anything done. Just spending a few minutes clearing away what I don't need allows me to get focused immediately. Clutter essentially makes your brain multitask, so getting rid of it will turn you into a concentrating machine.
More creativity
Personally, I need space to be creative. Dividing your attention between several stimuli often results in increased stress and decreased creativity and productivity.
Better nights sleep
Do you lie in bed and stare, with utmost stress, at your messy room or wardrobe? Or the piles of laundry on the floor? There does seem to be a connection between messy rooms and a lack of sleep.
A new sleep study has found that people who sleep in a cluttered room are at a higher risk for developing hoarding disorder and are more likely to have sleeping problems. This includes having trouble falling asleep and experiencing rest disturbances." Not to say everyone with a messy bedroom is going to be a hoarder, but it's an interesting connection.
Boost your mood
Clutter can make you feel cranky, disorganised and even depressed, not only because it's like visual noise, but it also sends a signal that you don't have your life together. Clutter can also have an impact on your self-esteem and self-confidence too.
Let go of the past
We all tend to hold on to things for emotional reasons or memories. But how much of the stuff you have in your home do you really need? Now this is more about feelings or emotions than quantity. In other words, identifying an item as clutter has more to do with how it feels than how it looks. If you feel less than great in certain rooms or even your entire house, it might be time to target items for removal." Do yourself a favor and get rid of anything that drags you down, especially if it messes you up emotionally.
If you are holding on to things from past relationships, experiences and situations that bring up negative emotions it is time to get rid!
Focus more clearly on your goals
When you let junk pile up, it all stands as a reminder of the things you haven't accomplished. A yoga mat in the corner can remind you that you haven't accomplished that goal to get fit or more flexible. Piles of unread books remind you that you didn't accomplish that goal to read 10 books this year.
The reality is that we hang onto far more objects than we need, and, instead of motivating us, they become talismans of guilt, shame and a constant reminder of all the things we didn't finish or accomplish.
Keep things that inspire or motivate you, but get rid of anything that makes you feel guilty, stressed, or in the past.
Just de-cluttering a room can transform it – and gives the whole space a new lease of life.
Decluttering may not give you the show home, minimal look you think of when you hear the term declutter – but it will be organised, clean and fresh.
Start with one room or one area in a room at a time. Anything you haven't used in the last 6 -12 month get rid of, especially clothes, shoes etc. give to charity or a friend as this will create space. All the things you are keeping organise them.
Make room in your diary to do this, schedule it in and get it done, it will make a massive difference to how you are feeling when you next enter the room it will feel clean, relaxing and fresh. When you have finished decluttering, give the space a good clean, open the windows and let fresh air in. When you have finished close the windows and if you want to you can sage the room (download pdf below) and light some white candles to bring in positive light and energy.
Have a blessed week
Suzi